All the fine people I interviewed in the late 1990's and early 2000's were names I knew, often respected and they certainly played an important part in the history of the British music business. Some I had worked with and/or for, others were people with whom I'd had business association, and  a few were more than that.
Rodney Burbeck I knew in at least four parts of his life – as a journalist on the then newly-formed Music Business Weekly, a rival to Record Retailer, later renamed Music Week, in the late 1960's, as press officer at CBS and RCA, and as editor of Music Week. It was in this last capacity that he presented me with an award, which of course I still have, marking the in-store portion of my advertising campaign for the Duran Duran "Rio" album, as "Top Point of Sale, 1982"!!
Sadly, Rodney has just died, after what I am told was a lengthy and incapacitating illness, and while his passing may not attract national attention, you may like to hear a brief summation of his story.
This fairly short interview took place as I recall in the courtyard of a Covent Garden pub and my wife had some difficulty with the transcription.
You started as a journalist?
Leicester (?) Evening News. I came into music via the Daily Sketch, London Life – a Thompson weekly  which followed swinging london. Then London stopped swinging and so did London life. Then I became press officer for CBS Records.
Was this the Sketch in the time of Mike Housego?
The man with the loud voice? Yes it was. Les Perrin used to do the pop column on the Sketch. He largely wrote about Dave Clark!
How did the CBS thing come about?
I was out of work and co-habiting with Mike Ledgerwood and one or two other people in the pop business – we were sharing a house. He was on Disc – this was the late 1960's. Mike recommended me for the job. I went along and met Olav Wyper. He recognised me as a Fleet Street hack, down to earth, and I got the job.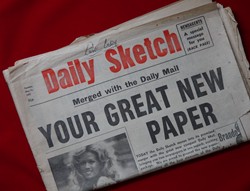 Did you know what  CBS was all about"?
No, but I knew they had Bob Dylan and Barbra Streisand, pretty good references.
Did you know whom you were succeeding?
Sue Hawlward (?), who was fired for some reason or other – she married Brian Gibson. Ken Glancy was the top man. To me he was a mentor. He was not like an American – he had a sense of irony and a sense of humour. On the Sketch although I wasn't showbiz, being young I did a lot of showbiz stories and came into contact with music people. Previously I had worked for the Scottish Daily Express and Glasgow Evening Citizen, two Beaverbrook papers in Scotland, doing pop and showbiz stuff for them, which was how I met Mike Ledgerwood.
Any excuse to use this photo which at my best guess, was taken at a leaving "do" for Phil Symes and myself who both left "Disc" on the same day in 1972 – he for the EMI/Tamla Motown Press office and me to Polydor as its press officer. From the left we have Rosalind Russell, Caroline Boucher, Brian Southall, the aforementioned Mike Ledgerwood, Judy Noakes/Fernie (editor Gavin Petrie's secretary as they were called in those days!), our house cartoonist whose name escapes me, a sub-editor sadly also without a name – Bill someone?, Phil Symes and yours truly. Amazingly, I think we are all still alive!!
How did you adapt to becoming a PR person?
Not an easy transition. In those I discovered alcohol was quite a good calling card, and charm, I'd been on the receiving end of a lot of PR and I looked on the job as looking for stories and offering them to journalists. I tried to treat the job as if I was working for a newspaper. It didn't always go down terribly well with the company. 'Why aren't you getting any…?' There wasn't anything worth writing about that week. There was a UK manager Derek Everett and a USA manager David Howells. UK acts – Tremeloes. Peter Walsh (their manager) said 'you can't have Brian Poole without his backing group.' So we said 'OK, then.' We put out Brian Poole's record which didn't do a great deal, then we had to record the Tremeloes' Silence is Golden and this was a honking great hit. This was my introduction to 'isn't it great being in the record business.' I was driving home in my car with the radio on and they played Silence is Golden. I thought 'I've done something' – that's when I thought 'I like this job.' Brian's records died and eventually we dropped him. We didn't want to put the the record out (Silence) but one of the DJ's picked it up and it was a runaway hit. It was a hit by default.
Mike Smith (Tremeloes' producer) moved from Decca to Strand Records and then on to CBS
Last I saw of Mike he was completely out of the business. I went to a CBS reunion ten years ago – he was a bit of a sad figure.
My other good memory of CBS was Georgie Fame and Bonnie & Clyde. I remember setting up a photo session with him and a fake machine gun in the mews behind CBS Records. The police were called.'There's this man with a machine gun making threatening action'
That was still the era of lots of receptions
And coming up with a gimmick. I did lots of gimmicks. With Scott McKenzie's San Francisco, I hired some leggy ladies and lots of boxes of flowers and positioned them outside Bank tube station and said 'anyone who comes out of this tube station in a bowler hat, hand them a flower and if they say 'why?' say 'wear it in your hair.' Lots of photos of startled businessmen being handed flowers by pretty girls.
Did you have anything to do with Derek Taylor?
Over the years Derek and I shared a bottle or two.
What about the established icons from America?
I liked **** ******* (I was asked to hide the name, and he is still alive) a lot. He was on stage at the Palladium and we had a telephone call from New York that his girlfriend had slashed her wrists. I was with Derek Witt and we said 'we can't tell him – we'll have to wait till he comes off.' She was OK – it was a cry for help.
What about getting calls in the middle of the night from Fleet Street (this happened to me at 3am on several occasions).
It didn't bother me because I'd worked the night shift on the Sketch – I was used to it. I was at CBS for five years, then I moved to RCA. My high was hearing Silence is Golden. The lows were meeting Miles Davis at Heathrow – in those days the press officer used to go to the airport. Derek wasn't around, so I did it. I met this small man carrying a small case and I said 'Hi.' He looked at me and said 'you're one of thos f*ck*rs who doesn't sell enough of my records.' I put him in the back of the limo and we sat in total silence from Heathrow to his hotel. Another low was Buddy Rich at Ronnie Scott's. I took a journalist and said 'Look we're not going to eat here – even Ronnie admits the food is awful.' So we had a meal first and went it just in time for his set. The place was packed except for one table right at the front. They were already on stage and we sat down quickly. Buddy did a roll on the drums. "thought you'd like to know that my record conpany just turned up.'
Another high was meeting Barbra Streisand whom I'd been in love with for years – she didn't say a lot to me! And meeting Leonard Bernstein. I was taken to the airport by our classical promotions man to meet him. I was a very innocent young man at that time and didn't know his sexual proclivities. His lady manager said 'I want you to be there' – she wanted a handsome young man to be there as well for him.
I left CBS to go to Music Business Weekly. It was a competitor to Record Retailer. Peter Robinson and Nigel Hunter were there, also Brian Southall. Jack Hutton was charged with launching a trade magazine to comnpete with Record Retailer, along with the advertising director Peter Wilkinson. We had about 18 months' fight against them. We were evenutally knobbled by the postal strike – six weeks with no post. The rival was far more established.
Peter Robinson, Rodney, Christine Eldridge, Brian Southall and Nigel Hunter, taken at my retirement Abbey Road party in July 1998.
It was a good bunch of people
Roy Eldridge's wife Christine was my secretary – it was great fun. But the record business wouldn't support two magazines, though more recently we set up a magazine in competition with The Bookseller  and that's worked. Also we didn't have a chart. We phoned round a few shops but our chart wasn't being seen on Top of the Pops. We thought we could beat them with better journalism.
So that died and RCA had a vacancy?
(The previous person-his name was lost in the crowd!) was doing it and I don't know if he wanted to give it up or they wanted him to go. So I set up an in-house operation, myself and Alan Sizer who was with me on Music Business Weekly. He went on to do A&R somewhere, but we established David Bowie, Middle of the Road, Bonnie Tyler and Sweet.
Who was guiding that from an A&R point of view?
Mike Everett and Ken Glancy. Mike signed the UK acts. I don't know the inside story of David Bowie – you'd have to talk to Geoff Hannington. He was marketing manager at the time and then became managing director.
Was RCA different from CBS?
It didn't change in the work involved but the music was changing and the lawyers and the managers were coming along and taking over to a certain extent. I remember sitting down to a meeting with De Fries (Tony De Fries, David Bowie's manager) and I'd drawn up a PR campaign and he looked at it and said 'We are not going to do any of that – we're not going to do any interviews', using the Colonel Tom Parker/Presley technique of keeping the guy away. For me that was a load of sh*t. Big money started to be made in pop music by The Beatles and the Stones, so it was inevitable that the accountants and the lawyers were going to move in and control it
David Bowie and Tony DeFries
I was with RCA for most of the seventies. I enjoyed it. I had lots of great trips to the States but I never met The Colonel or Elvis!
Do you remember when Elvis died?
Yes, it was late evening and the phone rang…I phoned New York and they said 'Don't say anything' I said 'Is he dead?' 'Yes.' 'Then I'll have to say something. But we were just 'the offshore outlet'  (so I couldn't). I remember the description in a CBS brochure – offshore activities, UK!
So next came Music Week?
Brian Mulligan was leaving. I'd been at RCA for seven or eight years and had had almost as many Managing Directors. It was attractive to go back to journalism. I got a buzz out of PR but you get tired of being nice to everybody.
But surely the record business expects that from its trade paper?
Not in quite the same way. You don't have to be quite so nice to artists and their managers and lawyers. We used to cut Louis Benjamin out of pictures Pye Records sent us – he was always in them so we started cutting him out! (Music Week) was enjoyable up to the first recession, but then it started losing advertising and it got very sticky. Good team though.
What is the essence of a good trade magazine?
A good editor needs to tread a fine line, get the right balance. You have to be nice to your advertisers – you need the advertising. If you're not subjective the magazine has no balls and people won't read you. Maintaining that balance is very tricky. They (the record companies) switched to single record or single artist advertising, which, apart from backing up the record, showed the trade there was muscle behind the record, and to please the artist and manager. We also then initiated reasons for other advertising – we invented the Special Feature, spotlight on reggae, independent records, recording studios, whatever. That was a little bit soul destroying but I'm pragmatic and it had to be done. My criterion was to make it readable. Jack (Hutton) was Managing Director. He was a good anchor, but he had become a managing director rather than a journalist.
How long did you stay there?
Eight years. The demise of the independent record shop was a gradual change, a move towards chains – Our Price, HMV. The increasing important of the charts – there was always a scandal or a complaint about them, and the editor takes the stick.,
What about the award ceremonies?
They were a very good idea..not mine. They gave the industry a reason for a piss-up. I left in 1986. There was a change of management and my face no longer fitted in the hierarchy.
After that I was six months "freelancing" as they say. Then I was hired by Publishing News. I friend of mine introduced me to one of the partners. They had this book catalogue and magazine and had the idea of a CD music catalogue that they could give away in book shops and have the record companies pay lots of money to have the (booklet) covers inserted. They hired me as a consultant for that. Fred Newman, who owns Publishing News, worked with me on the Daily Sketch in 1961. In those days Publishing News was fortnightly and they wanted it to go weekly. The idea of the CD catalogue never got off the ground but Fred asked me if I wanted to get involved in the magazine itself. So I stayed around to help them go weekly, and I'm still there.
Fred Newman, who died in 2008.This interview was conducted some years before then)
Did you leave the music business quite happily?
No, I left it sadly. I had a lot of friends and I miss that buzz of being involved with records and hits. But books are not so very different. And retailing is retailing. I miss MIDEM.
We were close to concluding this brief and rather noisy interview, when Rodney said..
You've forgotten my big low in the industry, when Richard Branson played his April 1st practical joke on me. I was editing Music Week and had a call from Richard's PR man. 'He's got a great story for you – a totally innovative way of delivering music. Can you come for lunch on the barge on the canal?' Went along to his barge, had lunch with Richard on the deck and he said 'We're going to start delivering music through cable, going to cut out record shops, no records any more. We've discovered a way of being able to let people decide what they want, and key it in.' I thought 'this is a good story, why should I not believe this guy – it's Richard Branson. But it's a bit odd'. Got back to the office and discussed it (and the response was) "why should he have you on?" I rang his PR man and said 'it's not on – it doesn't make sense. I've talked to the Cable TV people and they say they don't know anything about it.' Anyway, he said 'Richard is personally offended that you should think he's lying.' So I printed it and didn't realise our issue that week was April 1st. Apparently one of the Music Week staff had, he alleged, been freelancing nasty stories about him to 'Private Eye' and this was his way of getting back at him. through me. This was in 1983-1984. Who would have thought such an extraordinary convoluted story would come full circle? I met Richard a couple of years ago at a party and said 'do you remember that?' He said 'yes, it's come true, hasn't it. '
Every journalist wants to believe he has a scoop!
text ©David Hughes, 2018. Apart from two from my own collection, all illustrations are sourced from web searches and are purely for that purpose.